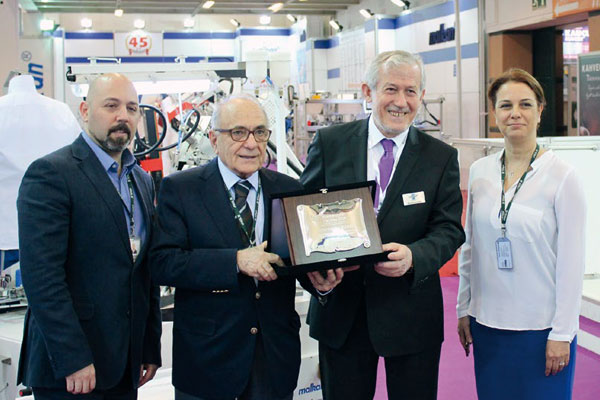 The Garment Machinery Fair 2016 took place between the dates 27-30th of April at TÜYAP Exhibition and Congress Center to which 500 companies and company representatives from around 30 countries participated, within the interior of the Exhibition Center there are 10 halls covering around 100.000 m² of space. Malkan Makine was also one of the participating companies to this Garment Machinery Fair held for the 25th time in 2016, being the world's biggest meeting place in terms of this sector. The first fair was organized in 1986 and it is continuing to be held for 30 years, Malkan Makine is one of the 3 companies who have succeeded in participating to the TÜYAP Garment Machinery Fair n on-stop f or t he 2 5th t ime. T hus M alkan Makine was considered worthy to be awarded with a reward by the Board of Directors of TÜYAP, the founder of TÜYAP Exhibition Center Mr. Bülent Ünal presented the award at the stand. Approximately 40.000 visitors from over 60 countries have visited the Fair, to which Malkan Makine evidently as a leading company has participated non-stop on a regular basis ever since it has started being held. Malkan has always been the leading manufacturer of industrial type pressing machines for 45 years in Turkey, t hanks to the innovative products showcased to the visitors the company has shown how adamant it is not to let go of its leading role in terms of being the number one local brand.
Malkan Makine Factory Manager Mr. Metin Kılıç, talked about his opinions on this year's fair, he said that they have observed an increase in the quality profile of the visitors to the fair compared to that of last year. K ılıç conveyed his appreciation to the TÜYAP team and its personnel regarding to the organization of the fair, "Almost all of our colleagues with whom we have exchanged ideas during the fair told us that they were happy about the profile and
the number of the visitors that came to the fair this year in spite of the stagnant condition that this sector is facing at the moment. Before the fair began we predicted that "this year Malkan's showcase at the fair would be a grand one". And so it did. We take pride in our high quality standard products that are produced with advance technology and to have the opportunity to showcase them in operation in a factory environment and to be the sole company among the local and European participating colleagues i n t his r espect. W e h ave n oticed t hat all visitors and customers coming from our country and from abroad who visited our stand were deeply impressed with the products exhibited at our stand. So much so that, right from the very beginning of the fair, many orders was placed for our products. This has pleased us immensely. " he said.
Mr. Metin Kılıç stated that this year the fair has been quite busy for the participating companies because of the number of purchase commissions and Professional visitors that came from 15 different countries and from 56 provinces of our country, as a result after the fair they have experienced bitter sweet problems in terms of meeting the demand of the customers, " We can say that the fully automatic jacket and trouser press machines endowed with PLC equipment has secured its position among the centuries old world brands in its field. Aside from providing products to ready to wear garment producers of our country located in the cities of İzmir, Adana, K. Maraş and İstanbul, and lately we have been endeavoring to carry into effect big projects destined to overseas markets especially to Uzbekistan, Ukraine and Poland. Most recently, we have started to succeed in overtaking the high quality companies and German companies in particular, that have dominated the said markets thanks to our quality, convenient prices and reliable after sales services. During the customers meeting we have held at the fair, we have observed that this favorable situation shall continue in the next period which has pleased us a lot." he said.
Moreover Kılıç, stated that as a participating company to the fair, they have spent a lot of money and that they did not expect feedback in the short term from this immense expenditure because it is impossible and he continued as follows : " In our opinion a fair of this international dimension should be held every 3 years rather than 2 years. A lot of our colleagues at the fair also expressed the same opinion. We hope that the relevant ministries and institutions in the country and abroad should develop incentive and support program at a larger rate and numbers for the benefit of producer-exporter SME's. At every opportune platform we shall convey our opinion in this regard" he concluded.
#TheGarmentMachineryFair #TÜYAP #MalkanMakine #KonfeksiyonTeknik #KonfeksiyonTeknikDergisi